The battle for Cork City, August 1922 – Interview with John Borgonovo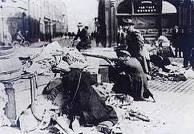 We interview historian John Borgonovo about his new book on the civil war in Cork. Questions by John Dorney.
Click on the links below to listen to the interview.
John Borgonovo on the civil war part 1
John Borgonovo on the civil war part 2
John, who has also written about the War of Independence in Cork, has contributed the latest volume to Mercier's military history of the Irish civil war series.
Here we talk about the background to the outbreak of civil war in Cork. He argues that civil war was by no means inevitable and its outbreak was largely caused by British pressure to enforce the terms of the Treaty. On top of that, many IRA members stayed neutral during the conflict. 
John argues that the civil war was almost avoided but that powerful social forces were clamouring for the restoration of order by the Provisional Government
On the other hand, there were also powerful social pressures clamouring for an end to the 'anarchy' that had accompanied the withdrawal of British troops from the south and this contributed significantly to the start of hostilities between the Pro-Treaty Provisional Governement and the Anti-Treaty IRA.
On the actual capture of Cork by Free State forces in August 1922, Johns says that the military operation was a relatively easy victory for the Pro-Treaty forces but the fighting south of the citywas considerably bloodier and more prolonged than is often appreciated. 
 Thereafter the Cork IRA mounted a sustained but unsuccessful campaign of guerrilla warfare until May of 1923. One of their victims was Free State Commander in Chief Michael Collins. Here John talks about the circumstances surrounding his death and the atrocities committed by both sides in the war.
John Borgonovo is an American-born but Cork-based historian. He has written, Spies Informers and the Anti-Sinn Fein Society, The Intelligence war in Cork City, 1920-1921, on the War of Independence in Cork city. He teaches at University College Cork.
Podcast: Play in new window | Download