Today In Irish History – Crossbarry, 19 March
~1921~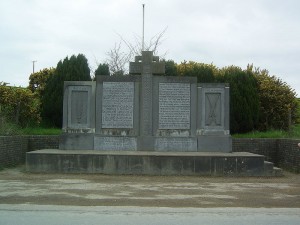 This day in 1921, the 3rd Cork Brigade, surround and heavily outnumbered and having lost its commanding officer, Charlie Hurley, faced annihilation. But, because of the ineptitude of the British coordination and the tactical competency of the field commander, Tom Barry, they survived and carried out an ambush at Corssbarry on the very forces that were sweeping in to capture them. There were casualties on both sides with figures ranging from 10-30 depending on who was reporting them.

Although the battle was not in itself significant the failure of the British to capture the brigade and the reversal the soldiers suffered made clear that the contention that had been common since the end of 1920 that victory would be achieved for the British by the end of Spring 1921 was at best optimistic.
Coming as it did during a period of intense and unrelenting conflict, it reinforced the view that overwhelming force might not be the solution to the conflict and a negotiated settlement would be required to bring violence to an end. It also reinforced the reputation of Barry as one of the finest commanders available to the IRA.