Today In Irish History – The Birth Of Lady Gregory, 15 March
~1852~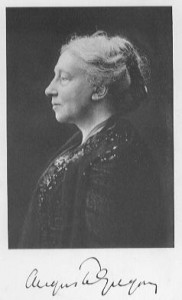 Irish cultural nationalism has long had its heroes. WB Yeats gets the greatest share of praise in modern discussion but no less important at the time and in subsequent years, if not in popular discourse, was Isabella Augusta, Lady Gregory who was born Isabella Augusta Persse today in 1852 in Roxborough House, near Loughrea, County Galway.
It is hard to know which strand of her career warrants the most attention. Her work as a folklorist brought many of the traditional celtic tales back into the literary canon. For instance, her Book Of Saints & Wonders brings to life the stories of ancient Irish saints and her work, Gods & Fighting Men resurrected the stories of the Fianna and reinvigorated them for an emergent Irish middle class.
As a dramatist and one of the founders of the Abbey Theatre, she was one of the pillars of the group that drove Irish cultural identity towards a more nationalist perspective. While we can argue the toss over the value of that vision and I certainly believe that debate is a worthwhile one, there is really no challenging Lady Gregory's talent, ability and drive.
Having retired in 1928, she died in Coole Park, Galway in 1932, aged 80.